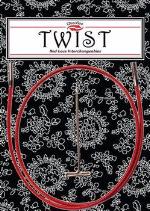 Chiao Goo Twist Interchangeable Needle Cords
Twist cables are memory-free! They consist of a multi-strand, steel cable coated with red nylon. Lifeline holes can be found at each end of these cables. Insert the T-shaped tightening key into the lifeline hole to assist with securing your tip/cable connection.
Twist cables with work with both Twist (stainless steel) and Spin (bamboo) tips.
Available in both Mini (1.5mm-2.5mm), and Small (2.75-5.0mm). 
ChiaoGoo Interchangeable Adapters are available to connect larger tips with smaller cables. 
Don't see the size you need? Get in touch with us and we can order it for you!