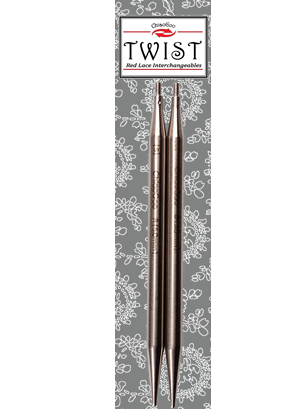 Chiao Goo Twist Lace Interchangeable Needle Tips
Chiao Goo Red Lace Interchangeable Twist tips are made of surgical-grade, stainless steel which means there is little to no chance of allergic reaction, no corrosion, no discoloring and no smell. The size is laser imprinted on each tip. Twist tips can be used with Spin nylon and Red cables.
ChiaoGoo interchangeable needles are grouped into 3 categories and each has their own connector and cable size:
Mini: 1.5mm - 2.5mm
Small: 2.75mm - 5.0mm
Large: 5.5mm - 10.0mm
Corresponding Chiao Goo Interchangeable Cords and cable adapters available for separate purchase.
The needle tips listed in the drop-down menu are those which we currently have in stock and are available for shipping with one day. However, any size can be added to our collection by request, at no extra cost, by emailing info@galthouseofyarn.ca. Special order needles are usually ready for shipment to the customer within one week.