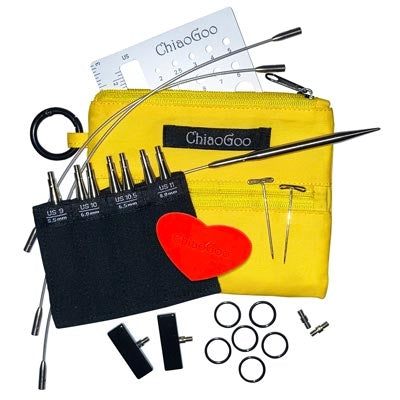 Chiao Goo Shorty Interchangeable Set (Large)
The most recent addition to the Twist interchangeable system!

Includes pairs of both 3" (8cm) stainless steel interchangeable needle tips, in sizes:
Metric: 5.5, 6.0, 6.5, & 8.0mm
US Sizes: 9, 10, 10.5 & 11
Needle tips are machine-precisioned, surgical-grade stainless steel with a smooth, satin-sheen finish. Needle size is laser imprinted on each.
Sets include two 6" (15cm) and one 8" (20cm) large series Swivel cables which can be mixed-and-matched with the tips to create 12"-14" circular needles. 
Chiao Goo cables are memory free! They consist of a multi-strand, steel cable coated with  nylon that resists curling or kinking.
Also included with each set are end stoppers, T-shaped tightening keys, stitch markers, a needle gauge and pocket-sized, zipper-enclosed, fabric case.