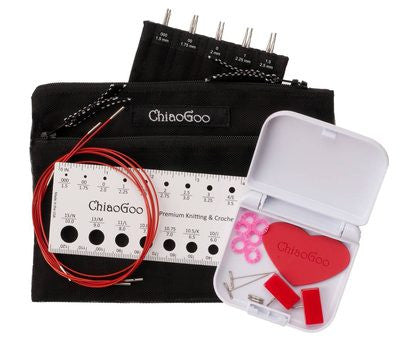 Chiao Goo Twist RED Lace Mini Interchangeable Set
Set of 5 pairs of Interchangeable Needles:
Metric: 1.5, 1.75, 2.0, 2.25, and 2.5 mm
US sizes: 000, 00, 0, 1, and 1.5. 
Includes 3 mini-series cables in lengths to create 24" (60cm), 32" (80cm), and 40" (100cm) circular needles (4" tips will create slightly shorter circular needles). 
Needle tips are machine-precisioned, surgical-grade stainless steel with a smooth, satin-sheen finish. Needle size is laser imprinted on each.
Twist RED cables are memory free! They consist of a multi-strand, steel cable coated with red nylon that resists curling or kinking. .
Also included with each set are easy-to-read, coded cable connectors, end stoppers, T-shaped tightening keys, stitch markers, a needle gauge and compact, zipper-enclosed, fabric case.