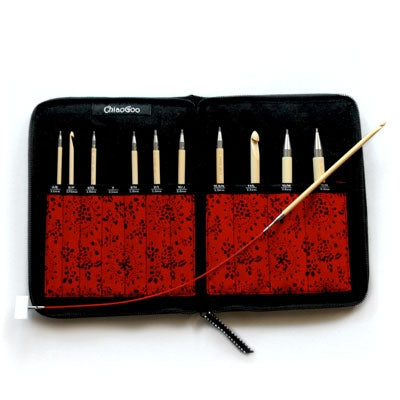 Chiao Goo Spin Bamboo Tunisian Interchangeable Hook Set
The gold-standard of interchangeables, Chiao Goo Tunisian crochet hook are machine-precisioned, laminated bamboo with a smooth, satin-sheen finish. The hook size is laser imprinted on every needle for easy identification.

SPIN nylon cables allow the tips to swivel freely. All hooks and cords in tis set are compatible with other ChiaoGoo Spin and Twist sets and components. 
Also included with each set are easy-to-read, coded cable connectors, end stoppers, T-shaped tightening keys, stitch markers, a needle gauge and compact, zipper-enclosed, fabric case. 
The set includes:
Eleven 5.7"/14.5cm hooks 

n sizes 3.5, 3.75, 4.0, 4.5, 5.0, 5.5, 6.0, 6.5, 8.0, 9.0 and 10.0mm (US E through US N);

Four TWIST [S] red cables (two 8"/20cm, one 14"/35cm and one 22"/55cm);
Four end stoppers, four adapters, two connectors, tightening keys and a needle gauge;
Carrying case with 11 slots and one exterior pocket for cables and accessories